The Grand Manan Archipelago is home to few native land animals: only a meadow vole and a deer mouse, and both larger than their mainland counterparts. When the Loyalists arrived, no large mammals were present, although First Nation archeological sites indicate the presence of beaver. These were re-introduced in 1948 for pelts; otters have returned to the island naturally.
Muskrats were also introduced intentionally in 1935; and the Norway rat, house mouse and American red squirrel, by chance. We have seen chipmunks as well. Various species of rabbits have been brought to the island, as well as raccoons, which have proliferated.
White-tailed deer were introduced, and some survive today - unlike their vole and deer mouse counterparts, they are smaller than their mainland cousins. Five species of bats call the island home.
Lupins splash colour over Grand Manan mid summer. Photo: Allan McDonald
Wildflowers and wild flowering bushes and vines, however, cover the island in great profusion. They provide a wash of colour in many areas, through spring and summer months.
There is a short list of wildflowers published online here, and an overview of Grand Manan's flora here. The Grand Manan Museum has wildflower photo displays, and offers lectures and field trips from time to time. A new Facebook page for Grand Manan Wildflowers has been launched.
Unlike Grand Manan's land animals, its sea mammals are bountiful and can be huge. The list includes the endangered North American Right Whale as well as four other more or less commonly seen whales - the Finback, Sei, Humpback, Minke. The Grand Manan Whale and Seabird Research Station web site has excellent pages with images, descriptions and behavioral information on whales and porpoises and on seals.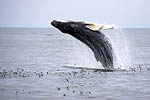 Humpback whale breaching. Photo: Allan McDonald
Fresh water fish use the island's many natural streams, and its lakes and ponds as home.
In the past, the waters around the island have teemed with fish, invertebrates, sharks and rays. However, the Eastern fisheries in general are facing depleting stocks - although strict conservation efforts are beginning to have a measurable and positive impact.
Not all species are currently commercially fished - but is hard to imagine Grand Manan without a stalwart fishing community - it remains the life blood of the community, and very profoundly, etched in the identity of all Grand Mananers.
And of course, the island is famous for its edible seaweed & other sea vegetables, especially dulse and nori.
Since Audabon's visit to nearby Whitehead Island in 1833, the Grand Manan and sister islands have been well known to birders world wide. The Island is now home to the Grand Manan Bird Sanctuary, and islanders are involved in a number of other efforts to re-introduce and/or protect colonies on the island proper, and on smaller islands in the area.
Of the 363 species which have been sighted at one time or another, approximately 250 are seen annually, and half that number use the area as a breeding ground.
Grand Manan is home base for the GM Whale and Seabird Research Station. and their web site goes into considerable detail in a series of online articles, check lists and pages to educate visitors on the seabird population.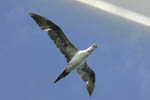 Northern Gannet. Photo: Allan McDonald
Another invaluable resource is the Allan Moses Bird Collection at the Grand Manan Museum.
The Grand Manan Birders Facebook Group is a great place to connect with fellow enthusiasts and find out the best places and times of year to visit.
A feral cat population is increasingly causing a problem, but efforts are underway to humanely control the problem. You can follow the efforts of the Grand Manan Animal Welfare League on Facebook - an effort very close to our own hearts.